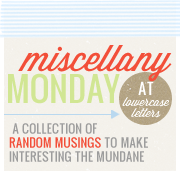 ***ONE***
This is my first time to participate in Miscellany Monday! I've intended to join in for a long time and then just never get around to it and this week I did!
***TWO***
HAPPY BIRTHDAY TO ZACH TODAY!!!!! I'm so thankful to be celebrating another year with you! Ava and I love you VERY much!!! We are going to celebrate at one of his favorite restaurants tonight and I can't wait!
***THREE***
I've added a poll on the left side for you to guess the gender of the baby! Zach and I have differing opinions! Most people are on the same team, except for a handful of people. I'm curious to see what others think!
***FOUR***
This is a short work week for me!! My work is closed for Good Friday and every year when it rolls around, I'm so thankful that they recognize the importance of the day and allow us that time off.
***FIVE***
I seem to be having extreme swings in hormones lately. One minute I'm happy and feeling blissful, the next I'm totally sad, upset and feeling very insecure. Gotta love hormones. I'm super sure my hubby loves them too – ha! :)
***SIX***
I kind of overdid things on Saturday and paid for it afterwards. I was exhausted and in pain the rest of the weekend. I'm not even ashamed to admit that it landed me in bed last night at 8:45. Sleep felt good!
***SEVEN***
I wish I had pictures to post along today, but I've been a slacker lately. So no pictures this week.
So that's it for this time! Hope everyone has a fantastic Monday!