I am linking up today with Faith for the 2013 Christmas card carousel!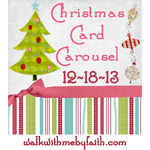 We had photos taken in November and after getting them back, decided I wanted a really simple card that made our pictures the focus of the card. As it turned out, I had won a free Christmas card design from Great Gabbie Designs by the talented Ashley.
I love how it turned out! I loved our photos and she did exactly what I wanted! Here is our 2013 card:
Merry Christmas from our family to yours!!!!!